We can first solve the puzzle presented by each of the characters. Each one solves to four answers: one six-letter answer and three five-letter answers. The full solutions for each can be found in the Appendix1. We can notice that these sets of answers can fit uniquely in the logo shown at the top of the puzzle, which may help us progress through the puzzle.
Solving each character unlocks another one, and on the 11th solve, we are given both an list of "autographs" that we collected and an updated logo image which circles two of the spaces in the logo. Taking these letters from each character's logo and ordering them reads CUT OUT RING AND TOSS IT ONTO A BOTTLE.
| | |
| --- | --- |
| Shazam | |
| O.M.A.C. | |
| Animal-Vegetable-Mineral Man | |
| Krypto | |
| B'dg | |
| The Question | |
| Two-Face | |
| Flash | |
| Elongated Man | |
| Printer's Devil | |
| Anarky | |
| Blockbuster | |
| Element Lad | |
| Odd Man | |
| Rebis | |
This references Ring Toss, which has bottles. We can cut each of the logos to only retain the inner circle of eight letters. The grid in Ring Toss contains the names of fictional ringmasters from various animated franchises missing two letters. We can uniquely rotate and place the rings we created from each of the characters into the grid such that the names of ringmasters can be completely spelled. Note that rings are not square and may rotate an eight turn. See the grid below for where they go.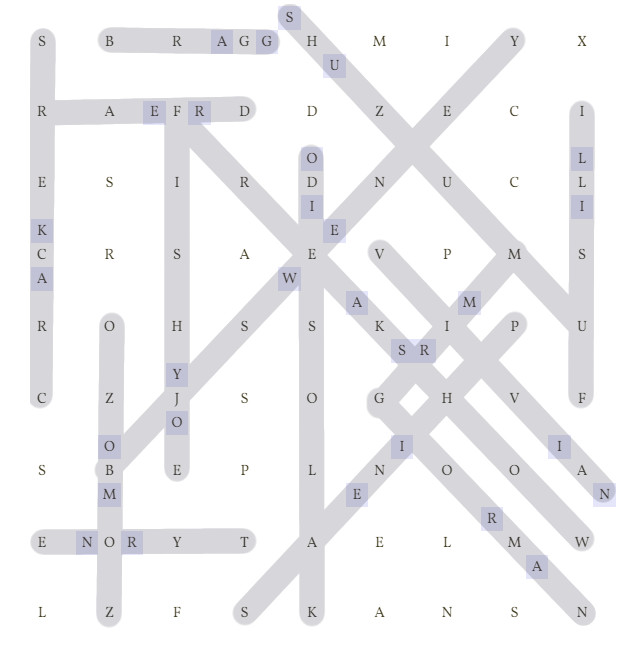 Next, we notice that the letter they circle is unique, in fact, the letters circles are the letters A through O. Finally, each ringmaster is associated with either one or two fans who are standing around the grid in one of the 8 cardinal directions. For each ringmaster, we can extract the letter in its ring corresponding to the position(s) of their fan(s). Finally, we can use the alphabetical ordering of the circled center letters:
Ringmaster
Fans (Directions)
Circled Letter
Letters Extracted
Rings
VIVIAN
SUZY (W)
A
W
ZOMBOZO
COOPER (NE)
BEN (SW)
B
H
A
CRACKERS
HE-MAN (W)
SKELETOR (E)
C
T
A
KALOSEIDO
SORA (SE)
D
R
BJSWEENEY
PUTT-PUTT (E)
E
E
DRFEAR
MANDY (SW)
F
T
BRAGG
BENGALI (NW)
CHEETARA (S)
G
H
R
SHUZUMU
MOMO (W)
H
O
GRIMM
MARISSA (N)
WILLOH (E)
I
W
N
FISHYJOE
SCRUFFY (NW)
J
I
FREAKSHOW
DESIREE (N)
TUCKER (SW)
K
N
T
FUSILLI
COURAGE (W)
L
O
GORMAN
TAEL (NE)
TATL (S)
M
R
I
PHINEAS
CANDACE (S)
N
N
TYRONE
BARTON (NW)
ALDUS (NE)
O
G
S
This results in the clue phrase, WHAT ARE THROWN INTO RINGS. There is an English idiom "throw one's hat into the ring", and so the answer is HATS.
Author's Notes
After deciding to turn Ring Toss into an entangled puzzle, we claimed the answer pair that contained what we thought was the most thematic Ring Toss answer. Leaving us with JUSTICE, and a need to find a way to make the 15 rings we thought would be required for the clue phrase. We initially discussed doing normal crossword clues, but because Joanna was in the middle of working on 'The Bazaar' at around the same time, we decided something that similar wasn't really an option.
Also around this time, we did the Microsoft Puzzle Hunt Smash metapuzzle (which we really really loved) and decided that if they are different enough, variety puzzles using small word transformations or properties would be fun and viable options.
J: Looking at the answer we had, I was convinced these should be Young Justice themed. My co-authors rejected this because 1) it would mean the puzzle answer is on the page and 2) they were convinced there was no way we would get enough heroes that would be interesting. While I didn't get my exact dream, I was able to convince them that DC heroes would be funny enough by showing them things like Animal-Vegetable-Mineral Man and Rebis.
We decided a clue phrase pointing to Ring Toss would be necessary or no one would ever pair the two. As a result, we ended up with 5-6 extracted letters per grid with all scraps additionally checked by the fans from Ring Toss. While every grid was constructed by hand, hundreds of lines of code were written to ensure the uniqueness.
The original plan for this puzzle was to have a static page with all 15 minipuzzles visible in reading order, but we ran into three issues with this. The first was that our testsolvers ended up with a lot of bad data, and no confirmation besides 2 crosses, making Ring Toss extraction impossible. The second was that the extraction puzzle order grouped a lot of similar puzzles, which wasn't the most fun thing for the solvers to see. The third issue was that you could get the clue phrase for Ring Toss at 8 minipuzzle solves, but actually solving Ring Toss would require teams to go back and solve at least 4 more puzzles.
Implementing the guess checker allowed teams to ensure that they had correct letters for extraction and as a happy side effect made the puzzle seem more accessible.
Minipuzzle patch notes:
Anarky

Answer first letters start with A-> Everything starts with A

The Question:

quiz bowl style questions -> quiz bowl style questions but question marks cover the text

Element Lad:

Atomic numbers -> anagram symbols to form words -> minihunt using different chemical element gimmicks numbers

The Flash

Renamed batsign to The Flash
Silhouettes -> Flashing image ID -> Flashing morse code (strobe warning)

Blockbuster

ID movie trailers -> ID movie based on box office numbers

Printers Devil

Renamed Lucifer to Blue Devil to Printer's Devil

Birds of Prey

Removed (too constrained)

Pokemon

Impossible to construct in our rings

The Riddler
Beastboy

Removed because we couldn't change one animal to another given the constraints
Our favorite DC Meet and Greet puzzle:
Patrick: Animal-Vegetable-Mineral Man
Joanna: ~~Nightwing~~ Old Version of the Flash 💀
Margaret: Anarky
Appendix
Solutions for each of the characters are given in puzzle order.
Index in alphabetical order:
Shazam
The audio file can be split into 4 songs, the titles of which can be found using Shazam the music ID app.
| Song/Answer | Band (for the curious) |
| --- | --- |
| CROWN | TXT |
| I WISH | One Direction |
| MAN RAY | The Futureheads |
| USUAL | Han Dong Geun |
Anarky
In these clues, the first letter of each word is replaced with an A. Additionally, all answers start with the letter A.
| Original Clue | Full Clue | Answer |
| --- | --- | --- |
| Australian Apen A020 aomen's aingles Astonian alayer | Australian Open 2020 women's singles Estonian player | ANETT |
| A aore aember af ahe Aueer Aye aeboot | A core member of the Queer Eye reboot | ANTONI |
| Art amock (alternative aame) | Art smock (alternative name) | APRON |
| Arthur Aoca's aerm aor aescribing a aendency ao aevelop allergic aiseases | Arthur Coca's term for describing a tendency to develop allergic diseases | ATOPY |
O.M.A.C.
After answering each of the crossword clues, we can assemble groups of words together to form acronyms.
Clue
Answer
A type of chart where one might find chaotic neutral (9)
Alignment
Rudimentary (5)
Basic

_____

appropriation (8)
Cultural
Academic (11)
Educational
Placebo

_____

(6)
Effect
Event that requires a trip to the polls (or a mail-in ballot) (8)
Election
A native of Great Britain, France or Germany (8)
European
Visually descriptive or figurative language (7)
Imagery
E.g. Japanese, French, Hindi (8)
Language
A type of minima (5)
Local
Definition (7)
Meaning
Observing or proctoring (10)
Monitoring
Countries (7) Countries (7)
Nations
The Social

_____

(7)
Network
Establishment (12)
Organization
Establishments (13)
Organizations

_____

Method (10)
Scientific
Google's original service (6)
Search
A building or the act of giving organization to a piece of writing (9)
Structure
E.g. Hammer, drill, or saw (4)
Tool
Manchester

_____

(6)
United
The assembled acronyms:
| | |
| --- | --- |
| Basic Local Alignment Search Tool | BLAST |
| European Network of Election Monitoring Organizations | ENEMO |
| Structure, Meaning, Imagery, Language, Effect | SMILE |
| United Nations Educational, Scientific, and Cultural Organization | UNESCO |
Elongated Man
Pairs of clues can be used to identify two words that differ by the doubling of a letter. Looking at the length constraints, we can place the longer version into the grid.
Clues
Answer
Under
Shout
BELLOW
∇s
Valleys
DELLS
Great Lake
Spooky
EERIE
Mathematical shapes of donuts
A gate
TORII
The Question
Each question is obscured by giant red question marks. It is still possible to answer each question based on what is visible. The number of question marks indicate the number of letters in the answer.
| Complete Question | Answer |
| --- | --- |
| Who is the racehorse? Dammed by Astronomie and sired by Djebel, this Marcel Boussac horse started racing with under Charles Semblat in 1947. Until sustaining injuries, he was a favorite in his four-year-old season, winning that year's Ascot Gold Cup. | ARBAR |
| What is the constellation? One star from this constellation is located between Pollux and Aldebaran in the Winter Hexagon. This constellation is associated with Erichthonius, who is credited for inventing the four-horse chariot. | AURIGA |
| What is the company? The founder of this company, whose name is derived from his name, shared his first model airplanes at the Chicago and New York World's Fair. The company primarily created promo kits for automakers as one of its most notable kits was the 1963 Chrysler Turbine Car. | JO-HAN |
| What is the word? This word names one of the first aircraft to fly over the north pole. With a red logo depicting the letter "N", a company containing this endonym has aired The Big Bang Theory, the Olympics, and original content like I kveld med YLVIS. | NORGE |
Krypto
Each clue is a cryptic clue. Hover over the clue for its explanation.
Clue
Answer

Pikachu painfully smuggled

half of a lollipop

(5)
CHUPA

Mako fins

and chicken heads

make a rice cake

(5)
MOCHI

Dominican capital

is pink

gold

(6)
ROSEAU

University

prep, kind of

?

(5)
UPPER
B'dg
B'dg is pronounced Badge, so a similar transform is applied to the clues and answers: all A's and E's are removed.
| Original Clue | Full Clue | Clue Answer | Answer |
| --- | --- | --- | --- |
| With Own, food compny foundd by nd nmd ftr fmous ctor | With Own, food company founded by and named after famous actor | NEWMANS | NWMNS |
| Horror movi bout scub diving coupl | Horror movie about scuba diving couple | OPEN WATER | OPNWTR |
| Musicin nmd ftr gint niml known for ting bmboo | Musician named after giant animal known for eating bamboo | PANDA BEAR | PNDBR |
| Grocry stor itm offrd ovr plstic ltrntiv? | Grocery store item offered over plastic alternative? | PAPER BAG | PPRBG |
Flash
The flashing of each colored square spells a word using morse code.
| Color | Morse Code | Answer |
| --- | --- | --- |
| Red | -.-. .... --- .. .-. | CHOIR |
| Green | ..-. .-.. .- -- -... --- | FLAMBO |
| Blue | --- .- ... .. ... | OASIS |
| Yellow | ... .... .. -... .- | SHIBA |
Blockbuster
Each clue give an actor along with the budget to earnings comparison of one of their movies (film budget compared to box office sales).
| Clue | Answer |
| --- | --- |
| Gary Busey: 6M → 1.8M | CARNY |
| Naomi Watts: 15M → 21.7M | DIANA |
| Frances McDormand: 7M → 60.6M | FARGO |
| Arnold Schwarzenegger: 1.4M → 1.7M | MAGGIE |
Animal-Vegetable-Mineral Man
The yes-no questions here can be grouped to describe 1 animal, 1 vegetable, 1 mineral and 1 man.
Questions
Category
Answer
Does it spend time in the water? Yes
Is it a genus name? No
Is it a rodent? Yes
Is it an invasive species in the US? Yes
Is it hunted for its fur? Yes
Is it smaller than a mouse? No
Is it the Spanish word for otter? No
Animal
COYPU
Does it contain a three-leafed ("trifolia") species? Yes
Does it have yellow flowers? No
Does it contain berberine? Yes
Is it a genus name? Yes
Is it sweet? No
Vegetable
COPTIS
Does it contain calcium? No
Is it on the Mohs scale? Yes
Is it orthorhombic? Yes
Mineral
TOPAZ
Can it make someone invulnerable? Yes
Does it own a shield? Yes
Is it a carry? No
Is it created by Riot Games? Yes
Is it the name of a character in a game? Yes
Man
TARIC
Two-Face
The clues can form pairs which give the same answer.
Clues
Answer
Austrian motto
Things you can buy?
AEIOU
Cinematics prop
Cooling agent
DRYICE
CMU neural networks library
Dynalite communications protocol
DYNET
Border
One of the major senses
TOUCH
Rebis
Each clue is a rebus.
| Rebus | Answer |
| --- | --- |
| ENT + ELI (Manning) - L (in Roman numerals) | ENTEI |
| (BOG→BAG) KNOCK | KNACK |
| LAT + CHIN - IN (India) | LATCH |
| REST - T (thymine) + MALE - M | RESALE |
Odd Man
These are clues with only their odd letters; even letters have been removed. The solutions also have only odd letters.
| Original Clue | Full Clue | Clue Answer | Answer |
| --- | --- | --- | --- |
| Hw oen at we te so ltl etuis; tpdy | How someone acts when they show little enthusiasm; tepidly | LUKEWARMLY | LKWRL |
| Fec wr maig ite ay sd o ecie tp o ppe wt srns tahd t ah ib | French word meaning little Mary used to describe a type of puppet with strings attached at each limb | MARIONETTE | MROET |
| Wee uh ae Gnbr sre fr h ltr er o hr ie | Where Ruth Bader Ginsberg served for the later years of her life | SUPREME COURT | SPEE OR |
| Ymui ins oe il | Yomiuri Giants home field | TOKYO DOME | TKO OE |
Printer's Devil
Each clue given is a printer's devilry, meaning that you can add an English word to make it a valid sentence.
| Original Clue | Full Clue | Answer |
| --- | --- | --- |
| Along with the angry din to town, I brought pitchforks and a list of demands | Along with the angry [mob i le]d into town, I brought pitchforks and a list of demands | MOBILE |
| Hack, Punt, Tool describes mineral | Hack, Punt, Tool describes MI[T in ge]neral | TINGE |
| You have big fee I heard | You have big fee[t or so] I heard | TORSO |
| Our university camps like fine wine, it comes back into style more every year | Our university camp[us age]s like fine wine, it comes back into style more every year | USAGE |
Element Lad
Each clue indicates a list of elements in a different way.
| Clue | Element aspect | Element List | Answer |
| --- | --- | --- | --- |
| 210, 47.87, 186.21 | Atomic weight | Astatine, Titanium, Rhenium | ATTIRE |
| 544.7, 336.7, 1133 | Melting point (K) | Bismuth, Potassium, Einsteinium | BIKES |
| 4s2 4p2, 3s2 3p6, 3s2 3p4 | Electron orbitals | Germanium, Argon, Sulfur | GEARS |
| 8, 88, 52 | Atomic number | Oxygen, Radium, Tellurium | ORATE |