In this puzzle, we are presented with a grid of bottles and some characters positioned around the Ring Toss game. We can first identify each of the characters.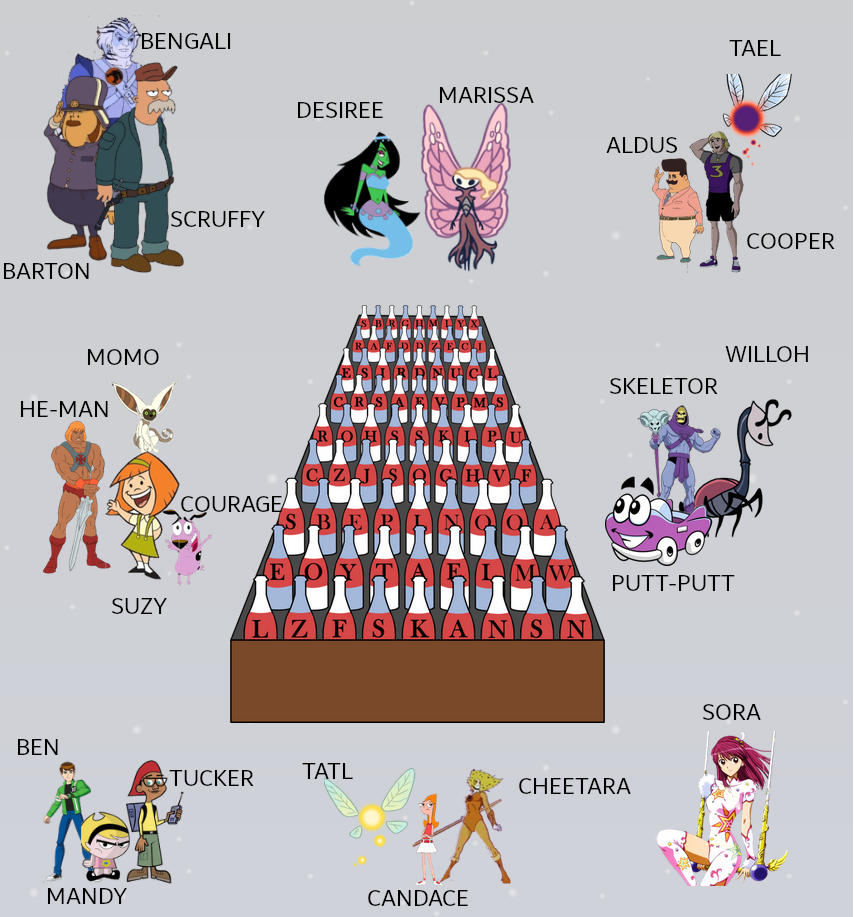 We notice that some of these characters are from the same franchise and we can group them. The flavortext suggests that we are interested in ring masters, or Ringmasters. In each of these franchises, there is a ringmaster (either as a general theme or as specific TV episode or side-plot). The name of this ringmaster is hidden "among the bottles" in the word search, except two letters are missing (e.g. ZOBZO instead of ZOMBOZO). (In fact, the missing letters are exactly 2 apart in each ringmaster, and the letters they sandwich run from A through O, which is how the table is sorted.)
| Franchise | Characters | Ringmaster |
| --- | --- | --- |
| Johnny Bravo | Suzy | Vivian |
| Ben 10: Alien Force | Ben, Cooper | Zombozo |
| He-Man | He-Man, Skeletor | Crackers |
| Kaleido Star | Sora | Kalos Eido |
| Putt-Putt Joins the Circus | Putt-Putt | BJ Sweeney |
| The Grim Adventures of Billy and Mandy | Mandy | Dr. Fear |
| Thundercats | Cheetara, Bengali | Bragg |
| Avatar: The Last Airender | Momo | Shuzumu |
| Hollow Knight | Marissa, Willoh | Grimm |
| Futurama | Scruffy | Fishy Joe |
| Danny Phantom | Desiree, Tucker | Freakshow |
| Courage the Cowardly Dog | Courage | Fusilli |
| Legend of Zelda: Majora's Mask | Tatl, Tael | Gorman |
| Phineas and Ferb | Candace | Phineas |
| Professor Layton and the Miracle Mask | Barton, Aldus | Tyrone |
After finding the ringmasters in the grid, the remaining letters spell MIX DC SCRAPS SPELL FANS.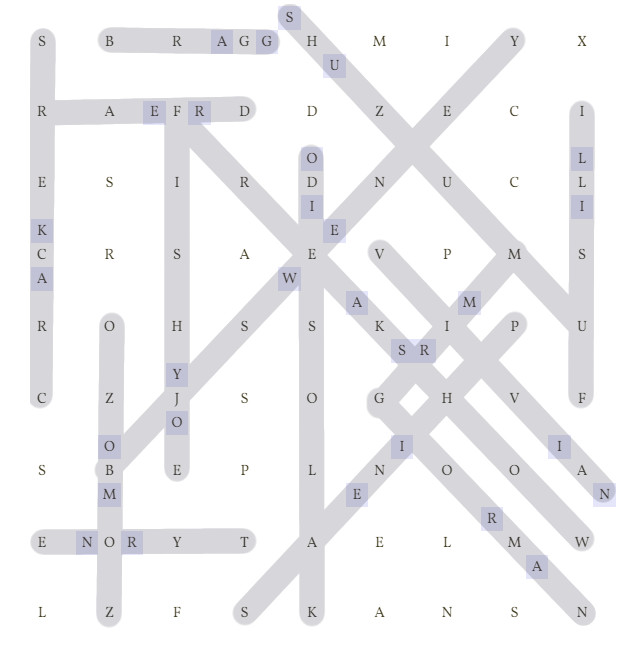 This puzzle is entangled with DC Meet and Greet and from that puzzle, we cut out rings (of letters) with leftover scraps (also containing letters). There are 135 scrap letters. Counting the total number of letters in the "fans" (using first names for everyone), we count 128 in total. This suggests that we can use the letter bank of scrap letters to spell the names of the characters.
| DC Character | Ringmaster | Ring | Scraps |
| --- | --- | --- | --- |
| Shazam | VIVIAN | | NCIHULYAM |
| Flash | ZOMBOZO | | SORCSAFLO |
| Element Lad | CRACKERS | | SBGSOEERA |
| Animal-Vegetable-Mineral Man | KALOSEIDO | | CUTZTCCOS |
| Odd Man | BJSWEENEY | | MTLLTESPR |
| Anarky | DRFEAR | | ANYATAINA |
| The Question | BRAGG | | RANJNEAUA |
| Krypto | SHUZUMU | | URACIMUAR |
| B'dg | GRIMM | | SNPRGPRTO |
| Two-Face | FISHYJOE | | TDAUTHDRE |
| Rebis | FREAKSHOW | | HLKKEIELR |
| Elongated Man | FUSILLI | | DSEEITBEW |
| Blockbuster | GORMAN | | FOCYADMAE |
| O.M.A.C. | PHINEAS | | BTESOEOCU |
| Printer's Devil | TYRONE | | ETEUOTELM |
The next table shows the letter count of each letter in the names and in the scraps. The leftover letters are CEIJSTU, which only anagrams to one common English word: JUSTICE.
Author's Notes
This puzzle originated as a metapuzzle idea based around ringmasters and ring toss. After some initial prototypes, our first testsolved one used long answers, a giant grid with hidden words for an instruction phrase, and rings formed by cutting 8-letter substrings of answers. These substrings were turned into a circle (ring) and tossed onto an originally gigantic grid to complete ringmaster names. Both the center letters and the letters along the rings were used for extraction. The initial feedback was that there was too much shell involved in looking up ringmasters, that it was too similar to last year's Party Time, and that our answers were highly constrained. At the same time, testsolvers enjoyed tossing rings and thinking about how to rotate them and place them into the grid. After several iterations (with some punny titles/answers), we were able to reduce its similarity to Party Time by making a much smaller grid and using leftover letters to spell the clue phrase. However, we were unable to make it work as a fun metapuzzle and cut it, ultimately in favor for The Mystical Plaza.
Since looking up ringmasters is a fair step for a regular puzzle, we addressed the constrained answers by adding a DIY-like step of filling in your own rings. This also, in theory, loosened the constraints. Furthermore, this idea fit well into the structure of an entangled puzzle, where the DIY rings could be its own mini-hunt while Ring Toss was about ringmasters and ring tossing.
In our answer pool, we found the pair HATS and JUSTICE, which inspired the final clue phrase for DC Meet and Greet "What are thrown into rings?" and a DC-themed mini-hunt. We still lacked a second extraction mechanism, since the only ones in Ring Toss were reading centers and reading the letters of the positions of the fans -- both used the grid of bottles. Furthermore, it was unclear how we were going extract an instruction from the minipuzzles. We didn't want to encode the instructions in the puzzles themselves, so we needed to use the answers (i.e. the rings that are built). But rings are perfectly symmetric, so there was no way to indicate which letters are used to spell out the instruction phrase.
The asymmetric "grid" image in DC Meet and Greet, using 3 five-letter words and 1 six-letter word solved both problems. It allowed us to uniquely create a ring from each minipuzzle and extract additional letters. And, it gave that puzzle more room to contain something puzzle-y, as there would now be 9 "extra" letters per ring that aren't used in the rings. We wanted the remainder (extraction) of the puzzle to be a single step that can be clued by the unused letters in Ring Toss, and so anagramming everything and looking at the leftovers seemed straightforward.
| Letter | Name count | Scrap count |
| --- | --- | --- |
| A | 15 | 15 |
| B | 3 | 3 |
| C | 7 | 8 |
| D | 4 | 4 |
| E | 15 | 16 |
| F | 2 | 2 |
| G | 2 | 2 |
| H | 3 | 3 |
| I | 4 | 5 |
| J | 0 | 1 |
| K | 2 | 2 |
| L | 7 | 7 |
| M | 5 | 5 |
| N | 6 | 6 |
| O | 9 | 9 |
| P | 3 | 3 |
| R | 10 | 10 |
| S | 8 | 9 |
| T | 11 | 12 |
| U | 7 | 8 |
| W | 1 | 1 |
| Y | 3 | 3 |
| Z | 1 | 1 |